Toyota Premio Price in Sri Lanka
Last Updated On February 03, 2023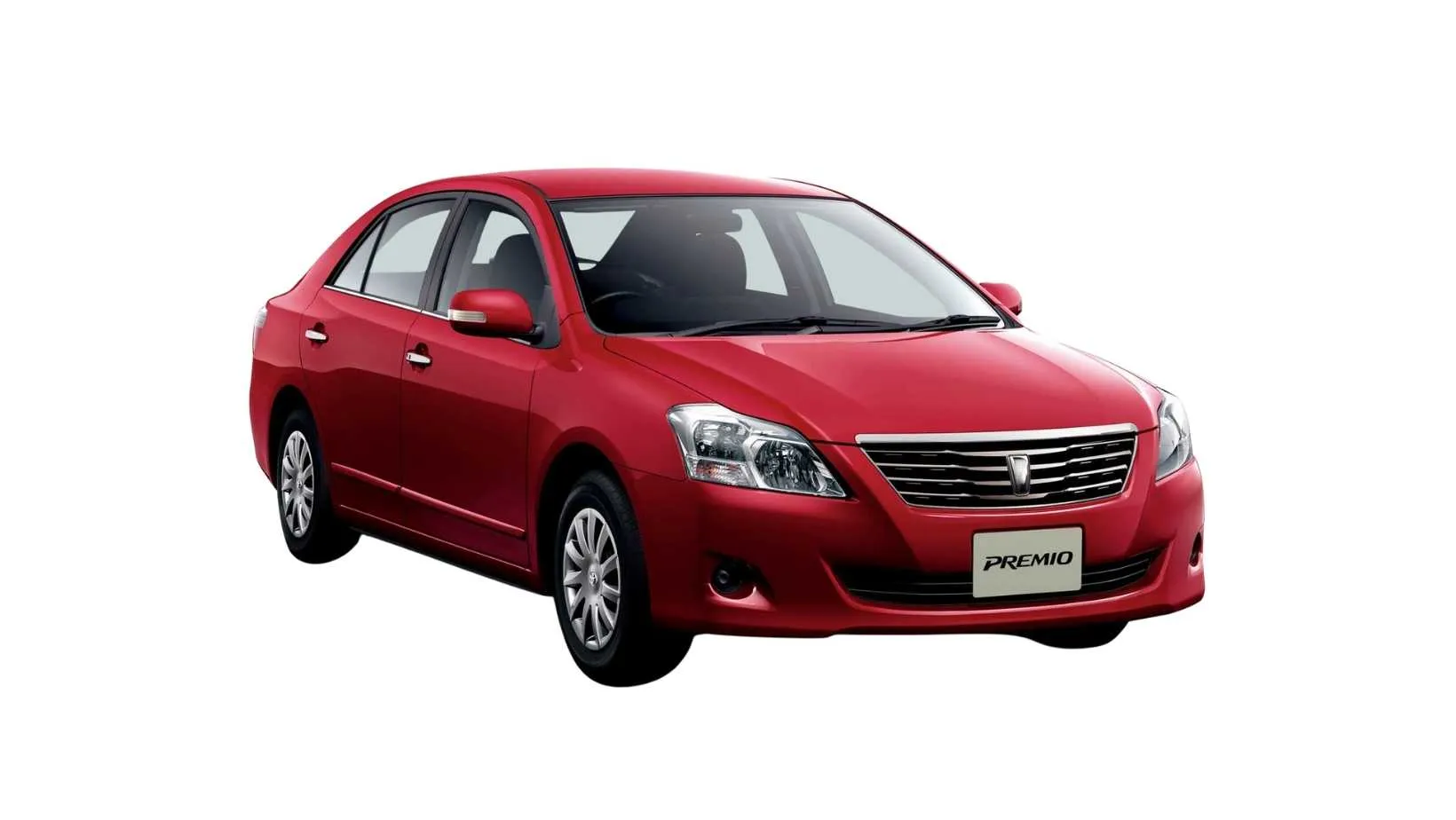 The Toyota Premio is the ideal luxury vehicle for many good reasons. With its big inside, plenty of storage space, and stylish design, the Premio is a tiny piece of luxury. It has everything you need to make your family feel at ease. Toyota Premio launched in 2009, alongside its twin Toyota Allion in 2001. Toyota has officially stated that production of the Toyota Premio and Allion would discontinue in 2021.
Toyota Premio Price in Sri Lanka
Toyota Premio price in Sri Lanka starts from LKR 84,000,000.
| | |
| --- | --- |
| Toyota Premio 2021 price in Sri Lanka | LKR 20,000,000 |
| Toyota Premio 2020 price in Sri Lanka | LKR 18,000,000 |
| Toyota Premio 2019 price in Sri Lanka | LKR 16,500,000 |
| Toyota Premio 2018 price in Sri Lanka | LKR 15,000,000 |
| Toyota Premio 2017 price in Sri Lanka | LKR 14,000,000 |
| Toyota Premio 2016 price in Sri Lanka | LKR 13,000,000 |
| Toyota Premio 2015 price in Sri Lanka | LKR 12,000,000 |
| Toyota Premio 2014 price in Sri Lanka | LKR 11,000,000 |
| Toyota Premio 2013 price in Sri Lanka | LKR 10,000,000 |
| Toyota Premio 2012 price in Sri Lanka | LKR 9,500,000 |
| Toyota Premio 2011 price in Sri Lanka | LKR 8,800,000 |
| Toyota Premio 2010 price in Sri Lanka | LKR 8,400,000 |
What is the fuel efficiency of the

Toyota Premio

?

Suzuku Jimny Fuel Efficiency is 10 - 14 kmpl.
Toyota Premio Colors
The Toyota Premio is available in 6 colors: Black, White, Silvar, Gray, Dark Blue and Maroon.
Toyota Premio Competitors
Honda Civic 1.5, Mazda 6, Audi A4, Mercedes Benz A-Class A200 AMG, BMW 3 Series 318i
Technical Specifications of

Toyota Premio

Performance
| | |
| --- | --- |
| Engine Displacement | 814 cc |
| Power | 55.2 hp |
| Fuel Type | Petrol |
| Torque | 74.5 Nm |
Dimensions & Capacity
| | |
| --- | --- |
| Cargo Volume | 215 L |
| Fuel Tank Capacity (litres) | 32 L |
| Length | 3495 mm |
| Width | 1550 mm |
| Height | 1500 mm |
| Wheel Base | 2380 mm |
Suspension & Brakes
| | |
| --- | --- |
| Front Suspension | MacPherson Strut |
| Rear Suspension | Torsion Beam |
| Shock Absorbers Type | Gas Type |
Transmission
| | |
| --- | --- |
| Transmission Type | Manual |
| Drive Type | FWD |
| Number of Gears | 5 |
Engine Details
Wheel & Tyre
| | |
| --- | --- |
| Alloy Wheel Size | 12 Inch |
| Tyre Type | Tubeless |
| Front Tyre Size | 145/80 R12 |
| Rear Tyre Size | 145/80 R12 |
| Wheel Size | R12 |
| Wheel Type | Steel Wheels With Full Wheel Cap |
Steering
| | |
| --- | --- |
| Power Steering | Yes |
| Steering Type | Electric Power Steerin |
| Adjustable Power Steering | yes |
Toyota Premio Review
Toyota has worked hard to provide comfort and convenience to its consumers through value-added cars. The Premio has lived up to its brand promise because of its utility and practicality. This vehicle has become a popular choice among consumers since it is built dynamically to compete today. The Toyota Premio is available with a single Petrol Engine. The petrol engine has a displacement of 1496 cc and a manual transmission option. The mileage of Premio is 14.53 kmpl, depending on the version and fuel type. The Premio is a four-cylinder four-seater car.
Engine and Performance
The Toyota Premio is a perfect choice for anyone searching for a high-performance vehicle. The high-performance engine is the essential factor in determining the car's strength. The Premio's huge curved bonnet conceals a 16-valve DOHC engine. The DOHC engine can breathe out more power from a low displacement engine, resulting in higher top-end power. The engine of the Premio is further configured as 1NZ-FE, which aids the car's efficiency. It has a displacement of 1500cc and produces 109bhp while rotating at 6000rpm, a top speed of 180 kilometers per hour, and enough horsepower to go you from 0 to 100 kilometers per hour in 10.5 seconds. The engine is also equipped with a Variable Valve Timing with Intelligence (VVT-i) system, which helps to optimize fuel efficiency and engine output while minimizing CO2 and greenhouse gas emissions. The power is distributed throughout the car's body, allowing it to race at high speed of 185km/h, adding sensual delight to the frugal rides. The Toyota Premio is an excellent choice if you need a car to transport you everywhere you need to go.
Features
The Toyota Premio provides luxury without sacrificing power or versatility. The inside has been intended to provide maximum comfort. With features like adjustable front seats, a leather-wrapped steering wheel, and an air conditioner, the automobile has been intended to give you maximum comfort. The Toyota Premio also has several cutting-edge technological amenities, like Apple CarPlay, a sound system that supports MP3/WMA/AAC formats, and an AUX input connection. This vehicle also includes voice-controlled navigation, Bluetooth hands-free phone connectivity, and safety camera warnings. The Toyota Premio's Multi-Function Steering Wheel allows you to operate your multimedia system without taking your eyes off the road. These are just a few of the characteristics that make the Toyota Premio a great choice for your next vehicle!
Safety
The car is recognized as a safe vehicle that is outfitted with superior safety and driver aid systems. It has excellent braking performance thanks to features such as Anti-Lock Braking System (ABS), Electronic Brake Distribution (EBS), and Brake Assist (BA). ABS helps to prevent sudden wheel lock when the brakes are applied in an emergency. However, the EBS optimizes the vehicle's stability, while the BA offers additional power for emergency braking. It should not be overlooked that the car is well-equipped with airbags and pedestrian injury prevention equipment. The safety systems work in tandem to provide the best possible protection against accidents and collisions.
Spare Parts Availability
Spare parts for the Toyota Premio are readily available in the local market because of their popularity across the country. The vehicle's new auto parts are also widely available in Sri Lanka, so customers need not be concerned about this feature of the Premio. Furthermore, the transmission of this car is less expensive than that of its competitors. Premio is unquestionably a fantastic choice in Toyota cars because all of its parts are readily available in the local market. Some are even cheaper than those found in other luxury vehicles.
Conclusion
The Toyota Premio is a luxury sedan car that provides excellent performance and appearance and a luxurious interior. The Toyota Premio can handle any terrain and get you there in style with its potent powertrain. The interior of the Toyota Premio is designed to meet the driver's demands, with options such as heated seats and an 8-inch touchscreen navigation display. Look no farther than the Toyota Premio if you want a car that will best fit your needs!