Toyota Rush Price in Sri Lanka
Last Updated On February 06, 2023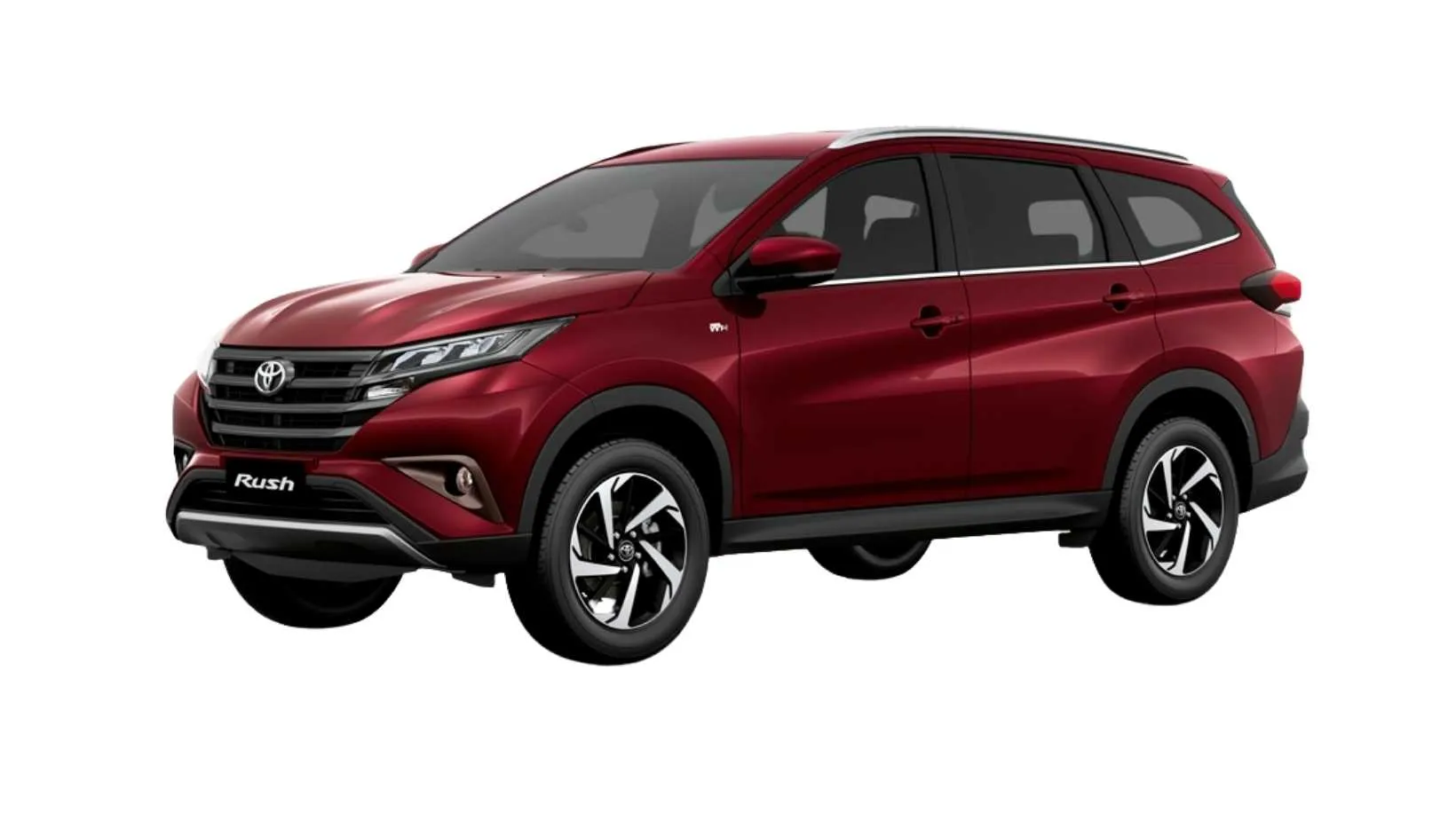 If you're looking for a compact SUV that will meet your budget and your lifestyle, this is the review for you. The Toyota Rush is a cost-effective, efficient family vehicle that gets the job done. It may not have all of the bells and whistles of more expensive SUVs, but it is jam-packed with features that will make every trip unforgettable. The Rush has everything you need in a car, from its spacious cabin to its high-quality navigation system, at a price that won't break the bank. So, if you want all of the benefits of an SUV without the exorbitant price tag, keep reading to learn more about The Rush. It is available in 5- and 7-seat configurations, with both petrol and diesel engines.
Toyota Rush Price in Sri Lanka
Toyota Rush price in Sri Lanka starts at LKR 6,000,000.
| | |
| --- | --- |
| Toyota Rush 2022 price in Sri Lanka | LKR 18,000,000 |
| Toyota Rush 2021 price in Sri Lanka | LKR 15,000,000 |
| Toyota Rush 2020 price in Sri Lanka | LKR 14,000,000 |
| Toyota Rush 2019 price in Sri Lanka | LKR 13,000,000 |
| Toyota Rush 2018 price in Sri Lanka | LKR 12,000,000 |
| Toyota Rush 2017 price in Sri Lanka | LKR 11,000,000 |
| Toyota Rush 2016 price in Sri Lanka | LKR 10,000,000 |
| Toyota Rush 2015 price in Sri Lanka | LKR 9,500,000 |
| Toyota Rush 2014 price in Sri Lanka | LKR 9,000,000 |
| Toyota Rush 2013 price in Sri Lanka | LKR 8,500,000 |
| Toyota Rush 2012 price in Sri Lanka | LKR 8,000,000 |
| Toyota Rush 2011 price in Sri Lanka | LKR 7,600,000 |
| Toyota Rush 2010 price in Sri Lanka | LKR 7,200,000 |
| Toyota Rush 2009 price in Sri Lanka | LKR 6,800,000 |
| Toyota Rush 2008 price in Sri Lanka | LKR 6,400,000 |
| Toyota Rush 2007 price in Sri Lanka | LKR 6,000,000 |
What is the fuel efficiency of the Toyota Rush?
Toyota Rush average fuel efficiency is 10 - 15 kmpl.
Toyota Rush Colors
Toyota Rush is available in Black Metallic, Bronze Mica, Bordeaux Mica, Silver Mica Metallic, Dark Red Mica Metallic and White colors in Sri Lanka.
Toyota Rush Specifications
Engine – 1500CC Dual VVTi / 103 PS (horsepower)
Transmission – 4 Speed automatic
Top Speed – 165 Kmph
ABS/ EBD – YES
Airbags – YES
Parking Sensors/ Camera – YES
Fuel tank capacity – 45L Petrol
Competitors
Mitsubishi Xpander, Honda CR-V, Audi Q2, Hyundai Creta, DFSK 580, Suzuki Vitara, Peugeot 3008 GT, MG ZS, Nissan Qashqai.
Toyota Rush Review
The Toyota Rush is a tiny multi-purpose vehicle sold in the Sri Lanka to compete directly with the small SUV class. The Rush, which was released in May 2019, is only available in a seven-seater form and is branded as the Daihatsu Terios in other ASEAN markets.
The Rush, one of Toyota Motor's most recent acquisitions, garnered significant attention in the Sri Lankan automotive market due to its 7-seat capacity and 220mm ground clearance. It's similar to an SUV but less expensive and more compact. It makes it immediately appealing to budget-conscious Filipino car buyers looking for something more upmarket than an Avanza but less expensive than a Fortuner.
The 1.5-liter gasoline engine of the Toyota Rush is coupled to either a 4-speed automatic or 5-speed manual transmission. The model is well-equipped with a wide range of safety measures, making it suitable for families needing a multi-purpose vehicle. The Rush is frequently compared to the Mitsubishi Xpander and Honda BR-V because of various similarities in its appearance, size, and seating capacity - yet it retains the title of being the least expensive of the three.
Interior
Toyota Rush has an excellent interior design with a roomy and comfy cabin. It will seat seven passengers comfortably, with plenty of leg and headroom. Seats shall be well-padded and comfortable, with adequate all-around support. The steering wheel and gear knob are intended to be wrapped in leather, and the plastics, chrome, and metal will be of high quality and well-assembled. The steering wheel-mounted controls will increase convenience. The audio quality would be excellent, and smartphone communication would be flawless. The SUV will include a powerful air conditioner quickly cool the large cabin. There will be plenty of boot room, which may be expanded by folding down the second and third rows. Toyota Rush will be well-equipped with automatic temperature control with a rear blower, power windows, a multi-function steering wheel, a 2-DIN audio system with 6-speakers with USB and Bluetooth connectivity, and a leather-wrapped steering wheel and gear knob, to mention a few.
Exterior
Rush SUV features a dramatic new style with luxurious accents and an aggressive appearance. In terms of the front fascia, there will be a sleek radiator grille with chrome highlights and a corporate logo in the center. It will also have big headlamps that will hold projector headlights. The ORVMs will include a built-in side indicator. A well-designed tail light cluster and the spare wheel would boost the rear profile to give it a natural SUV feel. The bumper's protective covering will keep the scrapes at bay. This SUV is expected to have a length of 4420 mm, a width of 1745 mm, a height of 1740 mm, and a ground clearance of 200 mm.
Performance
The Rush is powered by the same 102-hp 1.5L 2NR-VE Dual VVT-i gasoline engine found in the Avanza. It also comes with the same four-speed automatic transmission. To begin with, the Avanza isn't a fast car, so it's hardly a surprise that making its engine in a bigger and weightier Rush decreases its power-to-weight ratio. Rush has a 4-speed automatic transmission that isn't as quick to respond; you'd need to rev it up to roughly 3,500 to 4,000 RPM to feel the pull.
The Toyota Rush is projected to feature strong acceleration and linear power delivery. Its capable engine will provide lots of power and excellent urban and highway performance. It is predicted to reach 100 kmph in 12-13 seconds, with a top speed of roughly 175 kmph. The SUV may also be equipped with hydraulic power steering, which weighs accurately and is responsive at both low and high speeds. With a high ground clearance, you can drive over most of the flaws on our roads without slowing down considerably. The suspension arrangement may use McPherson struts at the front and coil springs at the back. Suspension is expected to provide a smooth ride on rough roads and good stability on motorways.
The Rush has a light steering feel, which is advantageous in the city but problematic at high speeds and on curving highways. The Rush's commanding ride height and comprehensive driving visibility make it easy to handle through tight areas.
Safety
The front wheels of the Toyota Rush are predicted to have disc brakes, while the rear wheels are most likely to have drum brakes. The highest variants are expected to include safety measures such as ABS and EBD. This SUV is expected to include several safety features that will provide the occupants with a stress-free driving experience, such as airbags (for the driver and front passenger), a collapsible steering column, reverse parking sensors, ISOFIX, an engine immobilizer, a child safety lock, a 3-point ELRx2 pretensioner, and so on.
Conclusion
The Toyota Rush is a budget-friendly small SUV. It has a big cabin with five-person seats, a smooth ride, and a wide range of accessible options. The Toyota Rush is an excellent choice for a compact SUV that provides excellent value for money but lacks features seen in other versions.
Toyota Lanka (Pvt) Company is the authorized Toyota Rush dealer in Sri Lanka. Toyota Rush variants are also available through third-party motor vehicle importers and dealers in Sri Lanka.